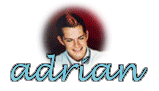 Adrian Samuel Young was born August 26, 1969 to parents Jean and Sam Young.

Weight: 155 lbs.

Height: 6'.

Adrian has a brother, Damian.

Adrian's instrument is a Pearl Masters Custom. He usually gets his equipment from Orange County Drum and Percussion.

He enjoys golf, basketball, and streaking.

He likes Star Wars.

Adrian attended college at Cal State Fullerton.

His favorite song to perform live is "Move On."

He founded a magazine, alongside Jon of the Vandals, called Schwing!. It's for golfers who aren't into the stuffy country clubs.
Adrian has a No Doubt tattoo on his thigh.
---
You have to understand that when it comes to making music We meshed the styles of five alive and intertwined and fused it Life comes from life and through our strife we strove to make the sound true Compelled to spell it out (NO DOUBT!!!), in search of what we must do... --"Move On"