La France
Voilà les photos que j'ai pris pendant mon voyage à France. Elles ne sont pas très claires, désolée. Nous allons allés à Paris et Versailles, Rouen (ou Jeanne d'Arc était brulée par les anglais), Honfleur, la Normandie, la Vallée de la Loire (avec les châteaux), Toulouse, Tours, St. Mâlo, Sarlat, Nîmes, Aix-en-Provence, Cannes, Nice, et Monaco, et beaucoup des autres petites villes. Peît-être je ajouterai plus de photos bientôt.
Here are the pictures that I took during my trip to France. They aren't very clear, sorry. We went to Paris and Versailles, Rouen (where Joan of Arc was burned by the English), Honfleur, Normandy, the Loire Valley (with the castles), Toulouse, Tours, St. Malo, Sarlat, Nimes, Aix-en-Provence, Cannes, Nice, and Monaco, and many other little towns. Maybe I will add more pictures soon.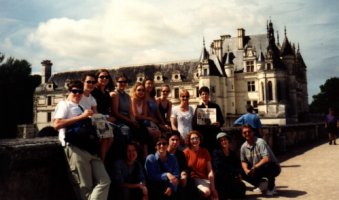 (clockwise from top left: Mike, Jenny, Emily, Jill, Krissy, Sarah, me, my mom, Madame Snead, my dad, Laura, Joanna, Stan, Madame Stevick, and Mandi.)

La groupe à Chenonceau, le château des dames. Henri II habitait ici avec sa femme, Catherine de Medicis, et sa maîtresse, Dianne de Poitiers. Chenonceau était construit au-dessus de la rivière. (Demandez-moi l'histoire.) Nous gardons les journaux pour une photo qui était pris pour notre journal local, The Liberty Tribune. Les jardins ici sont magnifique.

The group at Chenonceau, the castle of the dames. Henry II lived here with his wife, Catherine de Medici, and his mistress, Diane de Poitiers. Chenonceau was built over the river. (Ask me about the story.) We are holding the newspapers for a picture that was taken for our local newspaper, The Liberty Tribune. The gardens here are magnificent.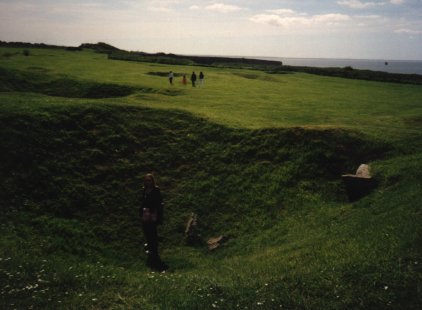 The Hawk Point, Normandy
C'est un peu difficile à voir, mais c'est moi dans un énorme cratère d'une bombe au Point du Hoc à la Normandie. Ça c'est ou les troupes alliées ont pris la France à D-Day, le 6 juin 1944. Ici il y a beaucoup plus de grands cratères et les bunkers des allemands. C'est vraiment incroyable. Nous avons vue la plage Omaha et Arromanches aussi.
It's a little difficult to see, but this is me in an enormous crater from a bomb at the Hawk Point in Normandy. This is where the Allied troops took France on D-Day, June 6, 1944. There are many more huge craters and the German bunkers here. It's truly incredible. We also saw Omaha beach and Arromanches.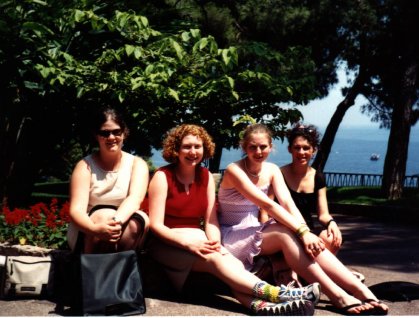 Jill, Joanna, me, and Jenny in Monaco
C'est nous à Monaco. Monaco est un principalité de la France qui est moins que une mille carré. Ici, nous avons vu le château des Grimaldis (la famille royaume), la cathédrale, beaucoup des jolis jardins (comme dans la photo), des distributeurs automatiques qui vendent les cache-sexes (pour 10 francs!!), et la tombe de Princesse Grace. La mer Méditerranée est dans le fond.
This is us in Monaco. Monaco is a principality of France that is less than one square mile. Here, we saw the castle of the Gramaldis (the royal family), the cathedral, many pretty gardens (like in the picture), vending machines that sell G-strings (for approx. $1.50!!), and the tomb of Princess Grace. The Mediterranean Sea is in the background.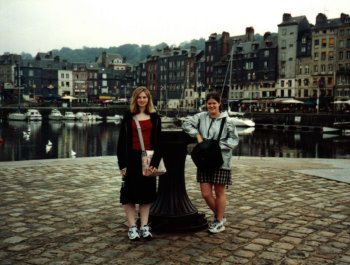 Me and Jill in Honfleur
C'est moi and mon amie Jill à Honfleur. Les tennis avec les robes étaient notre costume préféré pendent ce voyage (jusqu'à nous sommes arrivées à la Côte d'Azur :) Honfleur est une très jolie petite ville. La plupart des gens ici vont é la pêche pour leurs travails.
This is me and my friend Jill in Honfleur. Tennis shoes with dresses were our preferred outfits during this trip (until we arrived at the French Riviera :) Honfleur is a very pretty little city. Most of the people here fish for their living.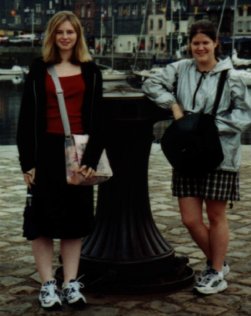 Me and Jill again
Jill et moi à Honfleur, mais un peu plus près.
Jill and me in Honfleur, but a little bit closer.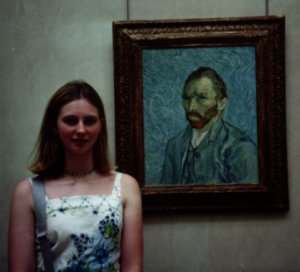 Me and Vincent
Moi avec l'autoportrait de Vincent van Gogh - mon artiste favori. C'est dans le Musée d'Orsay à Paris.
Me with Vincent van Gogh's self-portrait. Van Gogh is my favourite artist. This is in the Orsay Museum in Paris.
---
C'est tout pour maintenant. Merci pour visiter!! Si vous voulez savoir plus, envoyez-moi un email, il y a beacoup plus!!

That's it for now. Thanks for visiting. If you want to know more, send me an email, there is much more!!