---
No Doubt related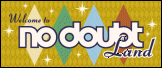 The Official No Doubt Homepage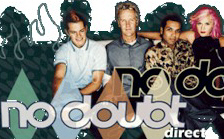 No Doubt Direct: Official merchandise.

The No Doubt International Fan Club: Home of Tragic Kingdom Magazine

Full Circle

Speachless: The Dutch No Doubt Homepage

Sunpist Online


Gwen Stefani: not just a girl


No Doubt Way


The German Tragic Kingdom

No Doubt Spanish Fans Site


Artificial Sweetener


Gwen Stefani Planet

blue in the face


The Magic of No Doubt


Bathwater: The Return of No Doubt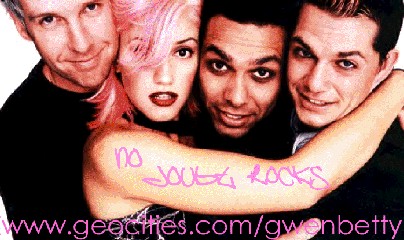 No Doubt Rocks
The Ultimate Band List
A Spot in Saturn
Sunpist Webring
The Doghouse: An excellent resource.
Total No Doubt
New Doubt
The Russian No Doubt Page
Brittany's No Doubt Page
Big City Train
[hadituptohere]-the unofficial gwen stefani shrine
Comforting Sweetener
eStar: Gwen Stefani- No Doubt She's A Riot Grrl
KDoubt: Online Radio-All No Doubt, all the time.


CDNow: No Doubt
---
Other Bands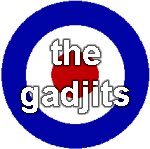 The Gadjits Official Web Space: The new stuff rocks, look for a new album!


The Rancid Official Website

Gadjitlink: Be afraid, be very afraid.

The Official Avenged Sevenfold Page


The Official MPA Page


The Official Sublime Page


A list of Orange County bands.

311
Goldfinger
Reel Big Fish
Good Life
Silverchair
The Vandals
Salamander
Baby Snufkin
The Smashing Pumpkins
---
Labels

The Official Interscope/A&M/Geffen Records Page

The Official Trauma Records Page

HellCat Records: Rancid, U.S. Bombs, Union 13, Hepcat & more.


Epitaph Records
---
Miscellaneous


Hit Haven: Music online.
---
Please inform me of broken links. Send in your links.