*Cog Fest II - with The Fonzarellis, Day Old Brutis, Settle For Less, Leftovers, Falling Stars, and Miscasts*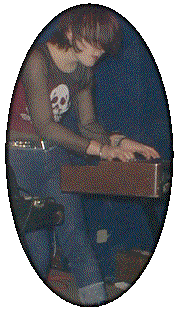 Set List:
*The Day My Optimism Died
*All The Way
*We Were Right All Along
*Somebody's Wife
*Leawood Rock
*This Girl
*Nothing Exciting
*Waffle House Is Not a Home
*Bad Gadjit
*Can't Catch a Break
*One Stone's Throw From a Riot
*Riff Raff
*Beautiful Girl
Encore:
*All The Girls
*I have a gun to my head so I can't tell you the last song.
---
---
---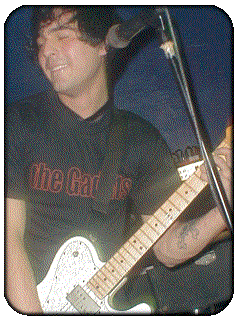 I arrived in Omaha after driving from Kansas City by myself and found the Cog Factory fairly easily, considering the one-way streets in Omaha really confused me. I stepped into the Cog for the first time and looked around. I had heard a lot of stories about the place from numerous other people that had been there. It's smaller than the venue in Kansas City that I go to, but the stage is bigger. I hear from bands that have played there that the set up is worse too – bad sound, and they don't mic everything. Despite this, I also hear from the same people that the Cog Factory is one of their favorite places to play. I don't blame them – the crowd there was amazing. The place was packed, and it was a benefit show.
I'll skip quickly through the first bands. I'm not quite sure what to think of the first band that played. The next 3 were ska bands. Ska is good in small doses, but 3 ska bands in a row made me tired. So, I spent those 2+ hours talking to Brandon and Mike in the back room about the Klammies and literature, and was finally "formally" introduced to Mike after talking with him awhile. The Fonzarellis went on right before the Gadjits. I had heard a lot about them before, and it turned out that I really liked them. Coincidentally they played Kansas City the next week and I got a chance to talk with them awhile.
So, after a hell of a long wait, the Gadjits finally went on. I was not disappointed. This was the first time I had seen them in 2 months since the Gadjits-show-a-week stint in November/December/early January and the last time I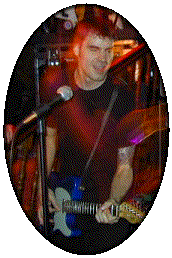 would see them for awhile. Anyway, so I assumed my regular position between Zach and Brandon, which has been pushed a little more towards center stage since the welcome addition of new guitarist Mike (formerly of the Revolvers). They began their set with something different this time. I have heard "The Day My Optimism Died" only a couple of times before, so unfortunately, at this point I can't tell you much about it except that it rocks. Next, they went into "All the Way," a personal favorite. Brandon really turns on the rockstar persona in this one (not that he's ever lacking..hehe…). Alright, so I'm not spending too much time on technicality and style, but hey, this is my first show review, give me some credit. The next song is what they usually open with, at least when I'm around. "We Were Right All Along" really got the place going. The crowd (and myself, of course ;) really loved this one, I should know, I had the bruises on my knees to prove it. This song rocks, rocks I tell you! But there's a little bit of gospel in there too. I shit you not. And in the middle of this one, Brandon likes to preach. You'll have to see for yourself. ;)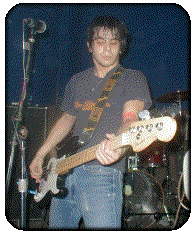 The next song surprised me just a little bit, and truthfully, it took me a second to recognize it: "Somebody's Wife." This isn't really one of the better Gadjits songs in my opinion, but they played it much faster than the album version, which I liked better because it's easier to dance to. The crowd sang along really loud to this one. They seemed to really get into the new stuff, but enjoyed the novelty (in this case) of being able to sing along. The Gadjits have actually been playing this next one awhile, but I still don't think that Omaha had heard it before. It's the infamous Ode to Leawood, home of the Phillips brothers. "Leawood Rock" always gets the crowd going, even if they have no clue where Leawood is (or what it is for that matter…hehe…JoCo). The next song was "This Girl." I haven't heard this enough to have it stick into my mind, so there's not much to tell, as of now, except that it's cute. Wonderful description, eh? "Nothing's Exciting," which is also one of the earlier new songs, was one of the new songs that seemed to appeal to the crowd the most. On to another favorite: this song is country, yes country. But it's so much fun! I remember being in the audience when the Gadjits played this for the first time. They all seemed nervous debuting a country song at El Torreon, but it really is a great song. Not only is it something completely different, it's about one of my favorite restaurants. Yeah, that's right, I'm talking scattered, smothered, diced and covered: "Waffle House Is Not a Home." Wait, is covered even an option? I don't remember. I'll go on to the next song. "Bad Gadjit." Zach told me once that he doesn't really like to play this song. I told him he always had to play it. I love it. The new stuff just blows me away, but it's always refreshing to hear an old song, especially this one. Of course this is a crowd pleaser. They played it a little faster than normal as well. The next two songs were new even for me – they had never before been played live. The first one is called "Can't Catch a Break." The second, which I really like because of its edgier rock sound is called "One Stone's Throw From a Riot."
I love the next song. The first time they played it, Brandon asked the crowd to name which AC/DC song they had ripped off. It does sound a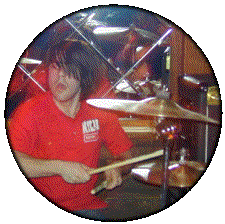 lot like AC/DC and the band always seems to really enjoy playing this one. It's called "Riff Raff." And now, the last song: "Beautiful Girl." Duh. The crowd always loves this one, and Omaha was no exception. You could hear the crowd singing way over the band. It was great. Then, after a lot of cheering, and to my delight, the band played an encore, only the second I've ever seen them to do. The first song they played for the encore is called "All The Girls" which Brandon usually finds someone dedicate to. This song is so damn catchy (AND it's on mp3…more later). I would reveal to you the second encore song, which was quite entertaining (hehehe), but then I would have to kill you. Otherwise, I would be killed. So, I'm going to try to draw some sort of conclusion in order to make some sense of this mass of words that really doesn't do any justice to the absolutely amazing new music that the Gadjits have created. While I miss hearing a lot of the older ska and punk (ok, that's really old) influenced music, the new rock 'n soul sound with a little bit of every thing else mixed in is diverse and original. If you liked any of the previous 3 albums, you'll love the new stuff. If you didn't, you'll still love it (and probably more). Look forward to the new EP Yes I Are…next time I promise not to procrastinate so I can provide better details. :)
– jen.
---
---
---
The Gadjits are:
*Brandon – Guitar, Vocals
*Zach – Bass, Vocals
*Mike – Guitar
*Adam – Drums
*Hilary – Keyboards, Backing Vocals
Upcoming shows:
*4/01 at the Pyro (Kansas City) w/Parlay
*4/13 at El Torreon (Kansas City) w/Parlay, Big Iron, the Wrecks, and Go Generation (Punk Rock Prom)
*4/14 at the Klammy Awards Show in Kansas City
*4/14 at the Pyro (Kansas City) Awards show post-party
*5/25 at El Torreon (Kansas City) w/Hi-Fidelity and Deal's Gone Bad (Hooligan Holiday Scooter Rally)
*You can go to the "Bands" section at http://www.vmsrecords.com to download the mp3 of "All the Girls" and to order the new EP Yes I Are.
*The Gadjits are nominated for Best Punk/Ska Band at the Klammies (Kansas City-Lawrence Area Music Awards). You can go to http://www.pitch.com to vote for them. (You do not have to vote in all categories.)
*The Gadjits website at http://www.thegadjits.com is currently under construction.
*Pictures of Brandon, Hilary, and Zach taken by JiLLy at El Torreon in KCMO.
*Pictures of Adam and Mike taken by SiD at Fred P. Ott's in KCMO.
27 March 2001
---
INSERT NNR LOGO/LINK HERE.