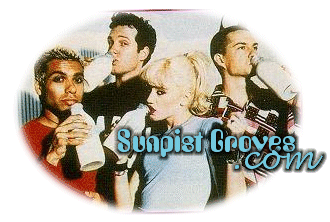 They pay homage to a king whose dreams are buried in their minds, his tears are frozen stiff, icicles drip from his eyes . . . Welcome to the tragic kingdom, cornfields of popcorn have yet to spring open . . .
---

---
Updates
Return of Saturn: in stores now!!!



15 Dec: I added the link above to No Doubt radio. It plays No Doubt songs, and some favourites of the band.
27 Dec: Wow, it's been a long time. So not too much has happened...except that small announcement that a new album will be put out by the end of 2001. Um yeah..we'll see if that happens. Tom told MTV: "I would describe our new direction as a fusion of dancehall reggae, Euro-synthpop and victory rock, ala Europe's 'Final Countdown.'" It

will be interesting... Appearances updated and 2 new links added. I hope everyone had a great Christmas, I'll see you in the new millenium...
04 Jan: Happy new year everyone. No Doubt and the Grammy Awards in the news, and new appearances.
11 Jan: Happy Birthday Tom! Appearances updated.
25 Jan: Check out Gwen on the cover of YM.
26 Feb: I'm sorry to inform you that I will be shutting down my website. You will still be able to access the resources through the address http://gwenrenee.tripod.com, but the page will no longer be updated. Thank you to everyone who has supported this page since 1996. Rock on No Doubt.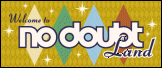 ---
Sunpist Groves does not wish to misrepresent the band in any way. I get my information from sources I feel are reliable. If you believe that I have been misinformed, please send me an email immediately so that I can correct the information.
---
If you see something which is yours, and I have not given you proper credit, please send me an email so I can give you credit, or if you wish, the information or image will be removed.

Last update: 26 February 2001.
©jen./Sunpist Groves: 1996, 1997, 1998, 1999, 2000, 2001.

Since 31 Aug 1999: